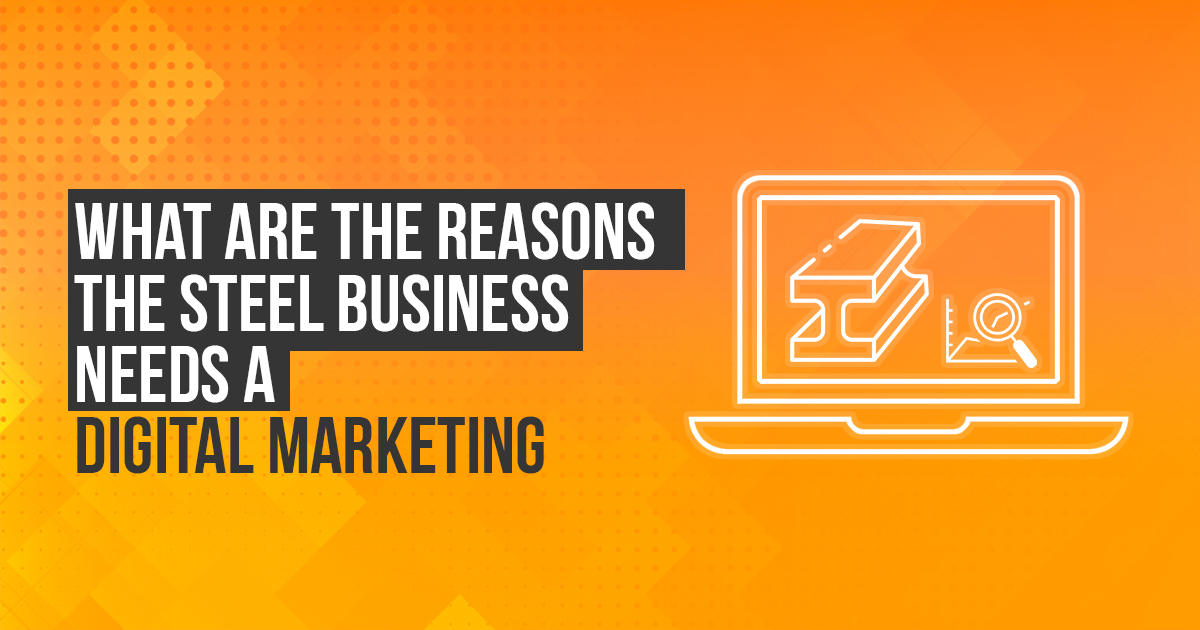 By admin
What are the reasons the steel business needs digital marketing?
The sales process is evolving. Digital marketing keeps you in touch with customers and more manufacturers are investing in its technologies. According to the most recent research, consumers expect brands to be active on at least three to four social channels. According to studies, 74% of people choose the vendor who was the first to add value and insight to their problems.67 percent rely on content and research more now than a year ago. According to reports, manufacturers can no longer ignore the reach and effectiveness of digital marketing and have shifted their focus from dated tactics like print ads to generate new customers through their website and digital ads. In this blog we're gonna see why the steel business shouldn't ignore digital marketing
The rise of social media
With a monthly audience of 2.5 billion active users, Facebook dominates the social media scene. Other social media platforms((LinkedIn, Reddit, etc..), on the other hand, are rapidly catching up and becoming more popular across various audience segments. Instagram, for example, has experienced an increase in usage throughout all age categories, particularly among younger people, with the 18 to 34 age group being the most active. So, if you want to develop relationships with prospective consumers or decision-makers, you know where to seek.
The need for SEO
In 2022, no one should be unfamiliar with the concept of search engine optimization (SEO). Especially for businesses expecting to be found online by searches. Customers will find you or your competition based on your SEO game, so it must be on point. To optimize your website for search engines, consider the words and phrases that consumers would type into a search engine if they were seeking your business, and then strategically incorporate such words and phrases across your site "Strat. Keyword stuffing is the most common SEO blunder. Don't just keep inserting keywords into your copy in the hopes of making your site more appealing to Google. It is not going to happen.
Post your works online
You may establish yourself as an expert in the steel industry by delivering excellent content across the web. The more content you have out there, the higher you'll rank in search results, and the more trust you'll gain from potential clients. Users aren't wanting to be sold to; instead, they're looking for answers. They're also looking on the internet. They'll be more likely to hire your services when they need them if you're the organization that can supply those solutions. As a result, make your content memorable, useful, and plentiful, and your customers will find you.
Easy to understand video 
"What I hear, I forget," Confucius once observed, "but what I see, I remember." Even now, this is true. The most effective kind of media for both engagement and conversion is video content, according to most experts. According to some estimates, the video will account for more than 80% of all internet traffic globally next year. As a result, this is an area where industry communicators should focus. Regular podcast episodes can help steel companies engage with their customers more successfully.
Paid content is effective. 
Facebook's organic reach has been declining for some time. Many factors will play a role, but information that encourages active participation such as comments, shares, and reactions will be prioritized in the news feed over content that encourages passive engagement such as clicks and views. What, above all, is your goal? Is it about clicks or about engagement? You'll need personal and people-focused content to improve your conversion rate and true social media ROI. Start re-evaluating the weight and energy you put into your organic and paid efforts if you haven't already.
Chatbots
Clients' and consumers' digital service experiences can be considerably enhanced by AI-powered chatbot technology. Chatbots provide cost-effective 24-hour service as well as proactive, rather than reactive, client engagements. So, if a problem happens along the manufacturing line, causing orders to be delayed, your chatbot might immediately warn customers and respond to their questions, preventing queries from reaching you and relieving pressure on other channels. Whatever industry you're in, you should always be focused on your audience's needs and concerns, and since the majority of audiences are now online,
digital marketing
is inevitable.