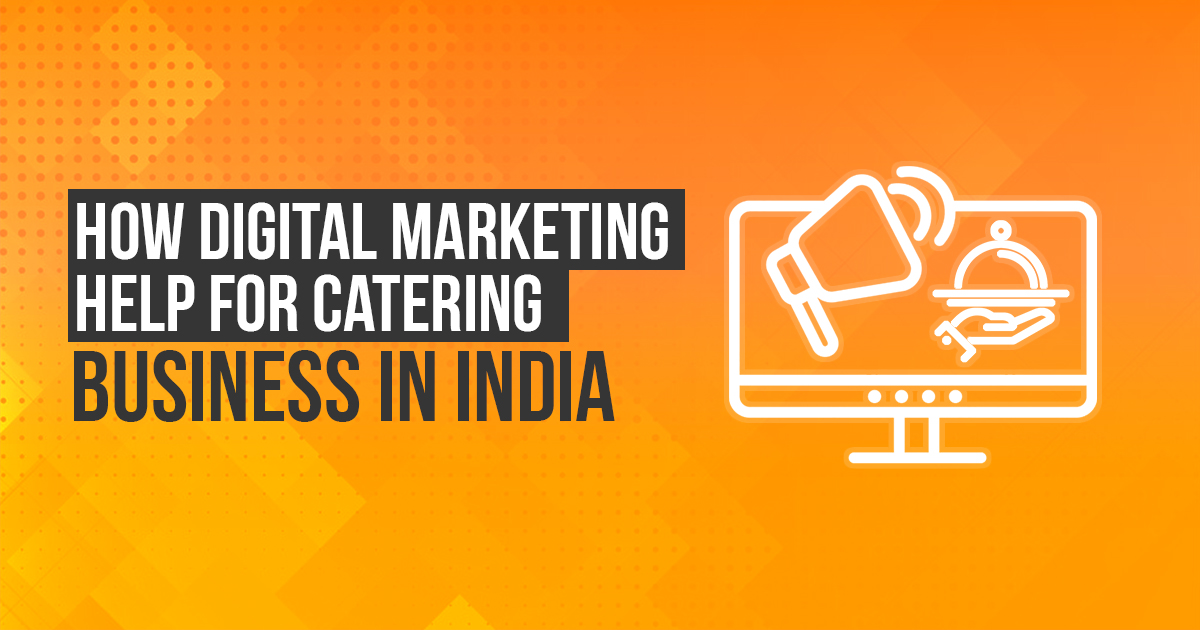 By admin
How digital marketing help for catering business in India
Are you a person who has a catering business and want to get more clients and leads through digital marketing but doesn't know if doing so will help your business grow? This article is especially for you In this blog, we are going to discuss why digital marketing is important for your catering business and as a bonus, we are gonna give a few digital marketing strategies which will help you big time in growing your business. The food industry in India is one such industry that is constantly growing. However, the previous year was not kind to food outlets, eateries, and restaurants. Several stand-alone restaurants bore the brunt of the pandemic, forcing them to close their doors. Nonetheless, the shift from offline to online business has aided the food industry in maintaining and reaching the right audience. As a result of the fast-paced lifestyle and ever-changing consumer behavior, digital marketing has become essential for every business in today's world.
Digital marketing offers more than traditional marketing
As we know with the change in time consumers have become more aware than ever before. They research a brand's online presence and even compare prices with other suitable matches. People have the freedom and they like the opportunity to explore before making a purchase thanks to digital marketing. Furthermore, the food industry must provide more visibility by emphasizing sustainability and health so that consumers can relate to both your brand and their well-being. And digital marketing enables you to provide that visibility to your customers. Most brands nowadays want to build a loyal relationship with their customers through user-generated content. So having a digital presence is a must for a business to thrive in the current competitive market.
The power of digital marketing
As we discussed above, due to the closure of many physical outlets during the pandemic there is a growth in the number of cloud kitchens or virtual restaurants exponentially. The internet age has aided businesses in numerous ways. Unlike before a company can reach its customers directly through their cell phones at any time and from any location in the world. Before dining out, 90% of customers carry out research on the restaurant. (2019, Upserve) Digital marketing is transforming lead generation by providing the ability to reach potential customers at the right place and right time. Search engines drive 56 percent of traffic to food brand websites, making SEO the
best marketing strategy
for their company. (Source: Business Journals) With a few hundred rupees, it's easier, more effective, and less expensive than ever to run an ad on Facebook, Instagram, or Google. With just one click, a company could gain a new customer.
The role of social media platforms
Food and beverage companies are the most mentioned brands on Twitter, accounting for 32% of all tweets.19% of social media users get their meal inspiration from brand posts. Six of the top ten most popular Facebook brands are in the food and beverage industry. Food is served on social media platforms before it is served on your plates. Food-related topics are the most popular on Instagram and other social media platforms. Instagram, which is based on images and videos, excels at food marketing and has proven to be extremely beneficial to the food industry. Furthermore, user-generated content, such as recipes created independently by users, paints a positive picture of authenticity on social media platforms.
Role of technological advancementst
We are not that far from seeing new technological trends in the food industry.
McDonald's
is working on voice technology to power drive-through orders. Virtual reality and augmented reality are the next technologies to emerge. These technological advancements can be used to create new engaging opportunities for storytelling in order comto improve the customer experience
.
Now that we know how helpful digital marketing is for the catering business let's discuss a few strategies that will help grow your catering business.
Creating a website :
Having a website is a must for every business because without a website it becomes difficult to connect with the targeted audience who has similar interests Having a well-designed website for your catering business aids in attracting more and more clients. Through your website, you can reach a large customer base and increase your credibility, which is important in digital marketing strategies. Creating a website with all of the necessary information is an important part of digital marketing strategies.
Search engine optimization
Local Search engine optimization is very important since catering is a local business and orders you receive are mostly from local and nearby areas 46% of google searches are from local clients and customers, so having local SEO done for your business will help you reach out to potential customers
Paid advertising
If you're wondering why paid advertisements are necessary when SEO can drive traffic. Traffic can be obtained through SEO, but it is a time-consuming process. In the case of paid advertisements, you can achieve your desired result in a matter of days. Nowadays, almost everyone searches Google for services and products they want and wants to get them quickly, cheaply, and of high quality. To summarise, a proper digital marketing strategy is all that a brand requires to improve conversion rates, increase engagement, acquire new customers, and retarget. Adopting the right digital marketing strategy will be critical in changing the landscape of India's food and beverage industry!